GreenR Community Year End Party 2019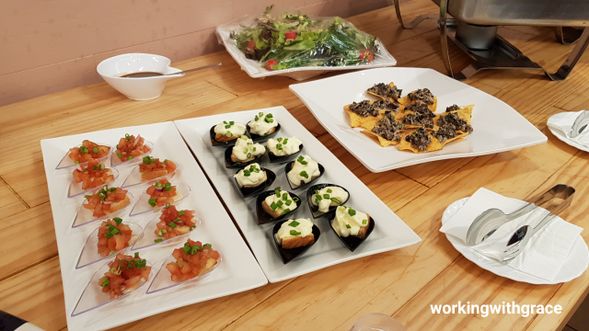 Light bites before dinner...
This year's Year End Party for the (new) GreenR Community was held at Kara Moments (above Kara Cafe at 617A Bukit Timah Road). There was dinner, an opening speech by Starhub CEO Peter K, games and a feedback session.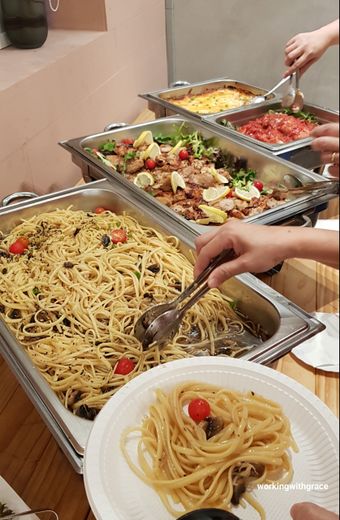 Time to tuck in...The food was pretty good. I remember that the previous gathering in July was at Jamie's Italian in Vivocity, and the food there left me feeling rather disappointed - the greater the expectation, the greater the disappointment, I guess.

And here's Peter K speaking to the group...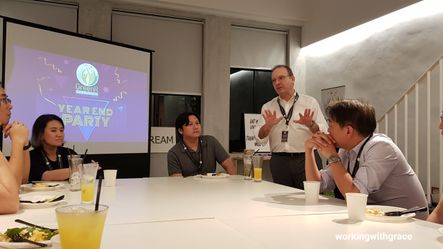 My first impression of Peter is that he's very eloquent, and he disappeared quicker than a magician. He shared with the group that he thinks the best days at work are when he/they get to talk to customers and get feedback about how Starhub can do better. And that if anything works well, the credit goes to his team. And if anything doesn't work well then he is to get the blame, and it is his responsibiity to fix things. *clap clap*
We'd been asked via Whatsapp 3 days' ago for questions we'd like to ask Peter so I don't know whether Jolene / Howard sent the questions to him or not. But it was a pity Peter did not stay on longer so everyone could get those questions asked AFTER we'd 'warmed up'. Yes, we Asians are not as eloquent and take a while to get comfortable enough to share our views and ask those burning questions.
While it was disappointing that I didn't get my 3 questions answered, I did win a prize tonight.
Anyway, my 3 questions sent via Whatsapp were:
1) What would you say to investors regarding Starhub's expected performance in 2020?
2) After the much-publicised job cuts, is Starhub now as lean and agile as you'd like, or does more have to be done?
3) What keeps you awake at night?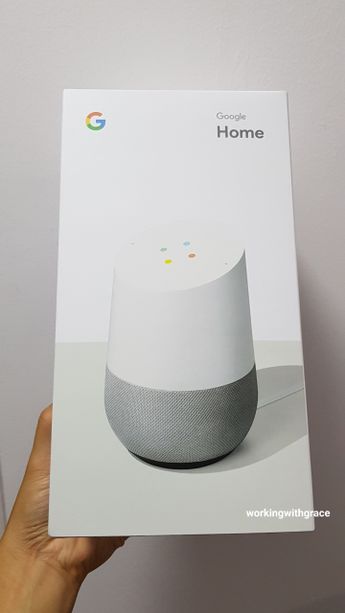 I have no luck with lucky draws but word games... I can!
There was just 1 game, with multiple rounds. Someone picks a slip of paper out of a box and everyone around the table has to offer an answer in relation to the theme stated on that slip. For instance, names starting with 'A', animals, things that are green in color, etc. Mention something that someone else has said before and you're out of the game.
It was pretty intense. And I won the Google Home prize after naming things that start with 'S'. *sweat*
After prizes were handed out and food had been ingested... time to work lor. This is a party with a difference.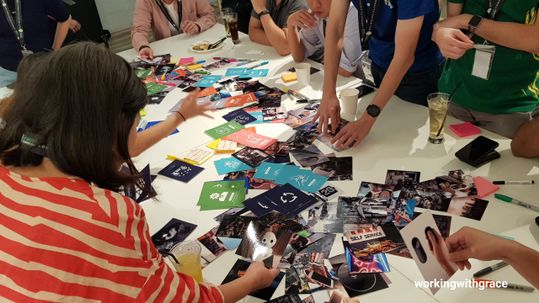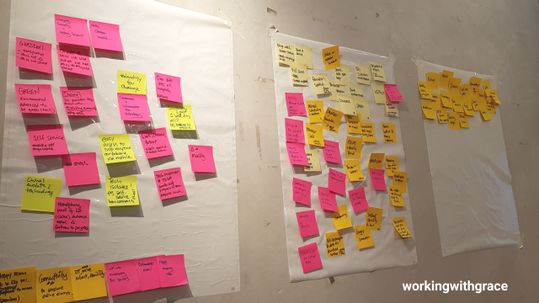 What struck me most during the discussion was that if Starhub wants to be the telco with a difference, it really has to do things other telcos are unwilling or unable to do. And it's probably not up to the customer or the GreenR Community to decide what it is.

It's like Apple products - you didn't even know you needed something like that till the company showed you what you're supposedly lacking in your life. So... SOMEONE in Starhub has to decide what that is.
Anyway...
There was dessert for the December birthday boy & girl: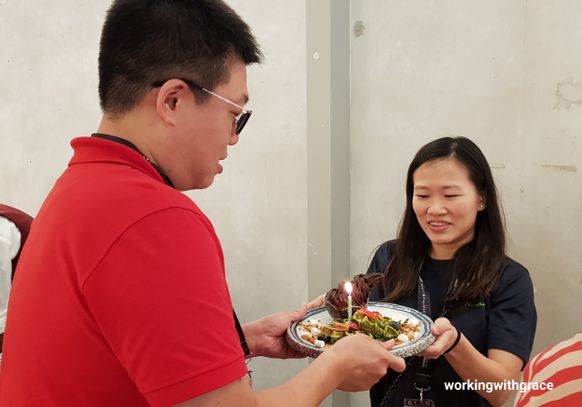 So sweet lah! Also, the two of them shared their birthday desserts with the rest of us.


My birthday's in October. Next year can? *wink wink*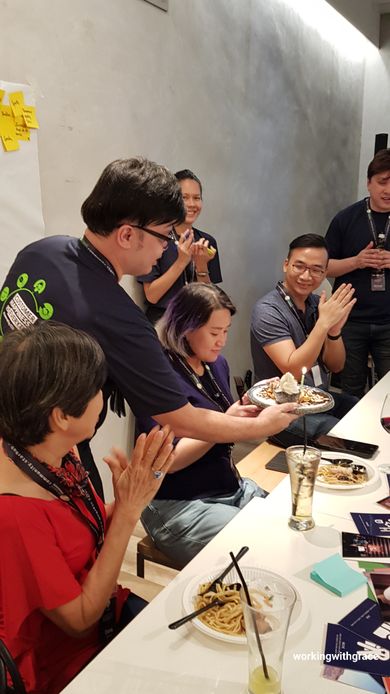 And each of us received froyo ice cream too! It supposedly even has some prebiotic (probiotic?) benefits... I think. Took a while to defrost but Chocolate tasted good. I would dine here again. So thank you Starhub for the lovely party. Feel free to feed us again any time.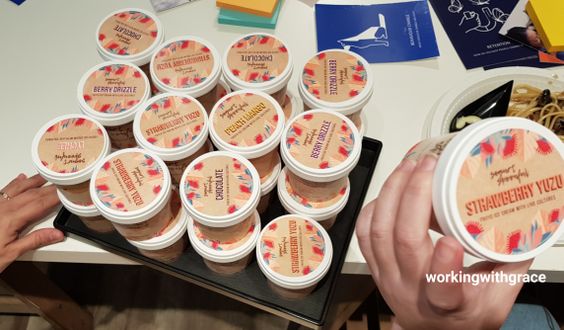 ~

Visit Grace's award-winning blog now: http://workingwithgrace.wordpress.com/ :)