StarHub TV Basic Troubleshooting
There is no power when I try to switch on my set-top box! What should I do?
Please try the following basic troubleshooting steps:
1) Check if power cord is connected properly
2) Try connecting the set-top box to another powerpoint
You may bring the set-top box and power cord to one of our Customer Service Centres for an exchange if the issue persists.
I received an error regarding Smart Card validation
Please allow up to 30 minutes for Smart Card validation. If the message does not go away, please contact us at our 24-hour Technical Helpdesk at 1633 or leave us your details at StarHub Cares and we will get back to you soon.
Incorrect / incompatible resolution on my TV
For the resolution on HD set-top boxes, use the # key on the StarHub TV remote control to cycle through the available resolutions until the desired resolution is obtained.
Blank screen on my TV
You will need to ensure that your TV is set to display from the correct input.
For Non-HD set-top boxes, please check if the set-top box is connected to the TV using AV cables. Alternatively, please check your TV remote and ensure that correct mode has been selected (e.g. AV1, AV2, AV3, etc)
For HD set-top boxes, please check your TV remote and ensure that the correct mode has been selected (e.g. HD1, HDMI, etc)
TV Screen Prompt ''Signal Not Found'' Message
Check the coaxial cable connection between the Cable Point and the set-top box to ensure the proper connection.
If the connection has been properly secured, you may wish to test out with another coaxial cable if possible.
If you have just moved to this address or just subscribed to SH TV at this address, simply connect the TV to the cable point and check if you are able to receive the StarHub TV Preview Channel at UHF 743.25 MHz: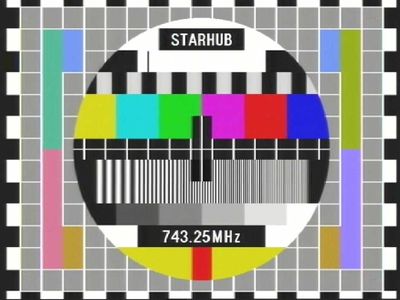 If you are unable to receive this preview channel, the signal might have not been activated for your unit or the address is not cable ready for the delivery of StarHub TV. Please contact StarHub for further assistance.