StarHub Go
It's so easy to own a smart phone these days. Phones have become a part of our lives and you can do practically anything on your phone - read up on world news, make a table reservation at a high class restaurant, to watching your favourite movie.
It's a common sight these days to see commuters and passersby with their eyes glued to their phones, only to look up when they knock into someone or a pole while walking to the bus stop.
Phone Zombies, as Urban Dictionary calls it, are everywhere. They could be office workers taking the train to work, guys trailing behind their girlfriends while they shop, and even neighbours catching up on their favorite Korean drama while walking to the provision shop at the void deck.
For me, I seldom get to be a couch potato and watch TV all day long, so entertainment apps and games have become my travel companion.
So the latest show in my StarHub Go playlist is The Voice, a singing competition that features Malaysian and Singaporean contestants (#supportlocal)
We're a few episodes into the contest now. For those who haven't caught a single episode, you can catch all of them on StarHub Go, there are even behind the scenes clips and contestants' interviews! For those who are following closely like I do, semi finals and finals are coming up on 10th and 17th December. Who do you think will win?
So anyway, with a Hub iD, I could log in to StarHub Go with ease and because I'm also a StarHub TV subscriber, with the same Hub id, I can get access to most of the channels that I've subscribed to on my set top box. (couch potato no more!).
If you have a movie or TV show in mind, the search function is really useful. For example, do a search on The Voice and everything comes up!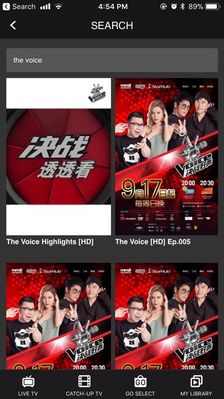 Other than your subscribed channels, there is also Go Select pack (HBO Originals, UK drama, Korean movies) for the movie buffs and Go Sports for the sportsmen/women.
Don't know what to watch? Scroll through the list and you can find movies and TV series of different genres - is Game of Thrones, Line Walker or South Park your cup of tea?
You could also pick one from the "Watch 1st Episode Free" list.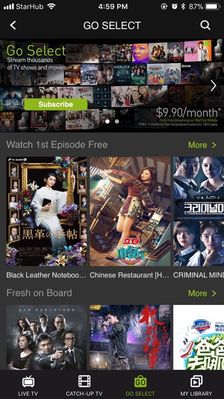 The best thing is, you can even resume watching from the part of the movie that you paused. (So you won't have to knock your head into a pole while walking.)
Download StarHub Go app or start streaming from your browser today and let me know which title you picked.
#Didyouknow Data used to stream StarHub Go is free for StarHub postpaid mobile customers. Not a StarHub subscriber? You too, can create a StarHub Go account. (Although we'd prefer you to be one

)
-Jolene
-Jolene
Some of my posts are unofficial and may contain personal opinions which may not represent the positions and opinions of StarHub.
For account related matter, please seek help from our Customer Service team via Facebook Messenger.
Have a good idea? Tell us at our Ideas Exchange!