We want YOU for our Sparklers Club!
Welcome to Sparklers Club.
A Brief Introduction
An elite club of the handpicked few who have contributed greatly to StarHub, StarHub Community and through our social media platforms such as Facebook, Twitter and Instagram through co-creation, ideation and evangelism.
You have the power to shape how StarHub will continue to serve all our consumers. Being a Sparklers Club member has its privileges:
Be on the panel of product advisors
First to try StarHub's products or review newly-launched mobile devices
First to find out about latest updates or promos!
Receive invites to exclusive events and meet-ups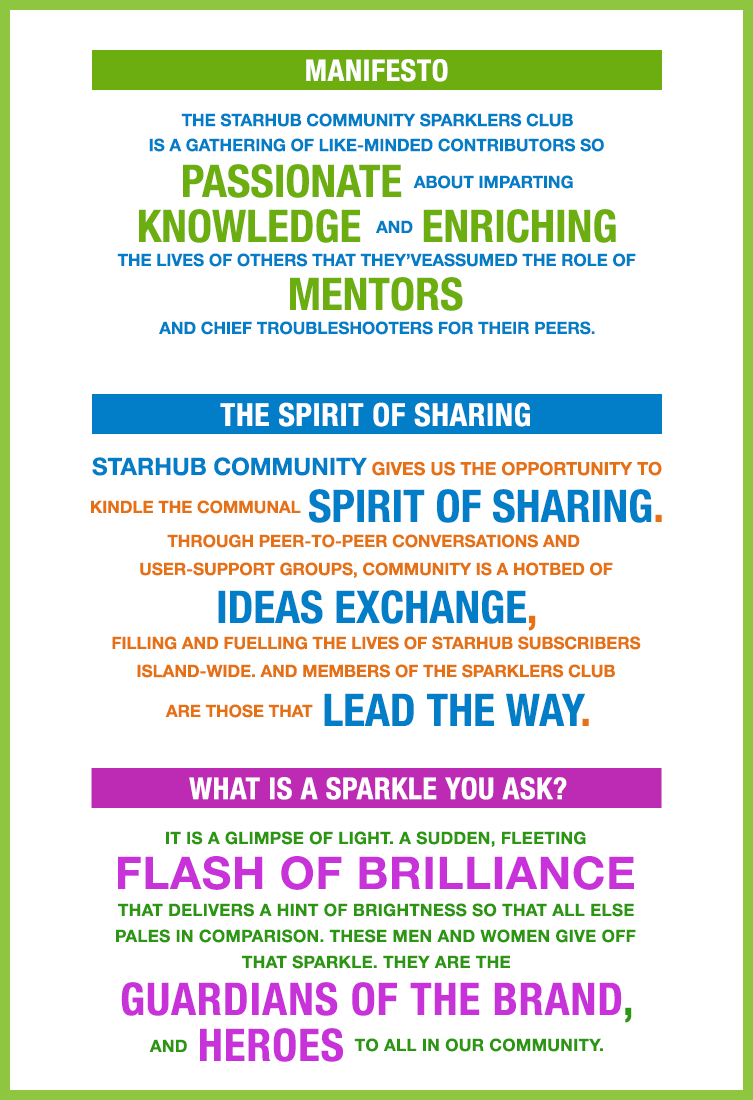 Be active on StarHub Community and you could be a Sparkler!
We're always on the lookout for members to keep our vibrant community going. Sparklers Club members must:
Write posts that others find useful so they will Like them

Visit frequently and spend time posting & replying on StarHub Community (make us your homepage!)

Read posts and give encouragement by Like-ing others' posts
Sparklers Club members rise up from our community so if you're active here, look out for that magic status upgrade to Sparklers Club Member!
Also, as StarHub customers, if you come across any concerns or feedback regarding our products and services, feel free to contact us directly via email or StarHub Community through private message.
Not a frequent forum user?
Got a Klout score of 50 and up? Or if you write a blog / consider yourself a topic expert, we'd love for you to join us! If you are knowledgeable and passionate about any of the topics in StarHub Community, you could be a Blogger, a Moderator of an interest group or an authority on a topic! We don't just talk tech – If you love movies, music, mobile phones and apps, this is the place to share your passion! Fill in this form and you may just be on your way to being a part of our Sparklers!
By the way, do check out our Sparklers Club events that we held in 2013 and 2014!