GreenR Community Guidelines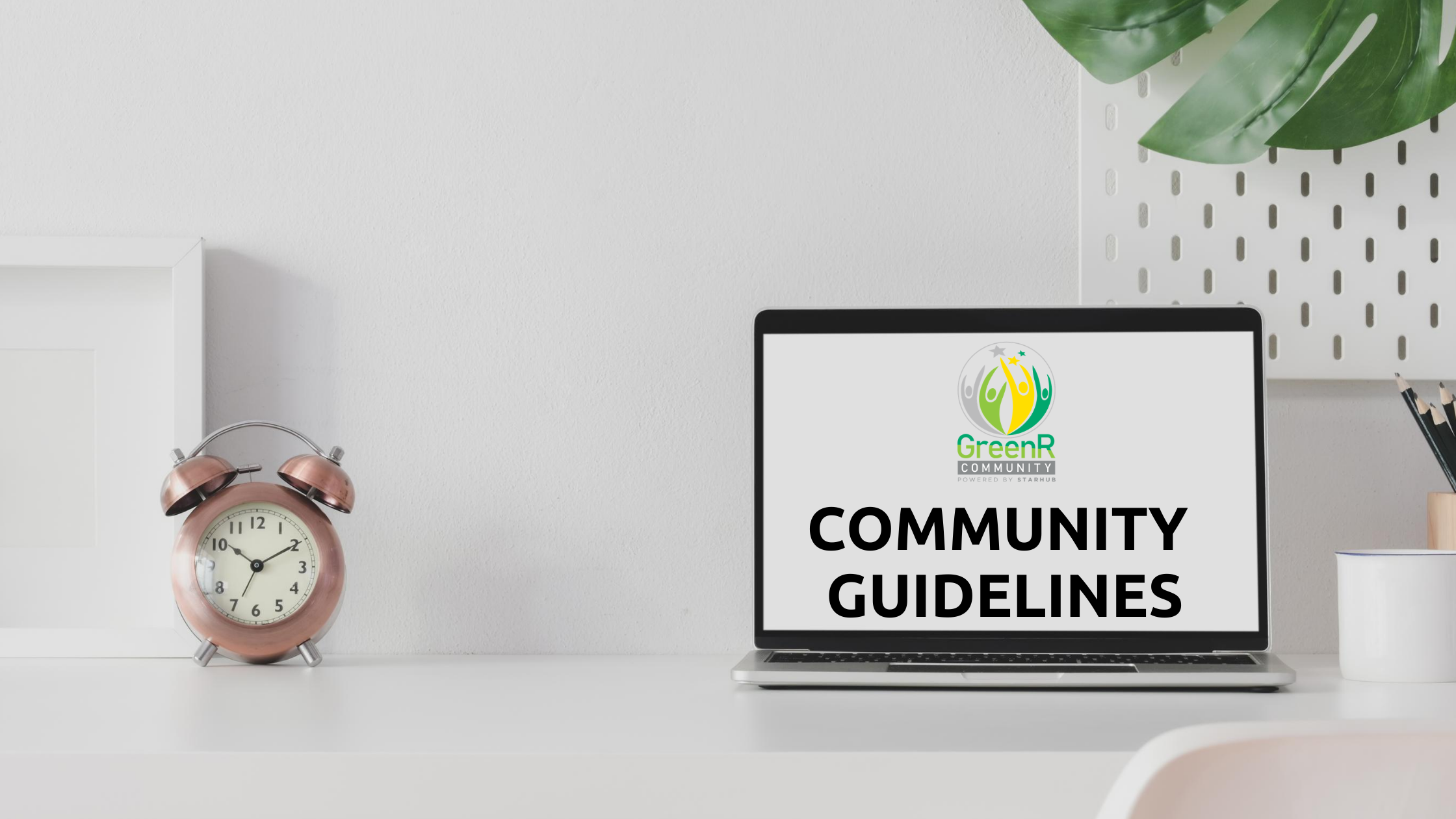 Welcome!
At GreenR (pronounced as Greener) Community , we always believe there's always something for everyone. Whether you're a StarHub customer, non-StarHub customer, someone who has an idea to share, someone who loves to blog, help someone or someone who's just browsing the internet, we welcome you!
If you are passionate about all things tech, lifestyle and knowing all the lobangs (events) in Singapore, you're at the right place. We can't wait for you to start posting a blog, ask a question, answer a query, or just say hi! To help everyone make use of this community, here are some guidelines:
1) A little courtesy goes a long way.
We love to see our Community members interact and help one another, so feel free to share your thoughts and feedback with us or fellow members. Most of the content here are user-generated (including those posted by StarHub employees), so thank someone when you receive a reply, mark accepted solution to the answers you find useful, acknowledge a reply by liking it. If you don't agree with someone, keep nasty comments to yourself and refrain from attacking or trolling fellow members.
2) You might find what you're looking without having to create a new post.
Before asking a question, please check if someone else hasn't already posted the same question. There could be answers available for you without having to start a new thread. If you don't see what you're looking for, ask the community by posting your question in the correct board and only once. Spamming is not encouraged.
3) Any personal information posted publicly on our forum threads will be deleted.
We take privacy very seriously. Please refrain from posting any personal details such as NRIC, address, email address, mobile number or any information that you want to keep out of the public eye. Any personal information will be deleted.
4) Please direct account related queries over to our social media channels.
StarHub account and billing related queries should not be posted on GreenR Community. Please direct your account related queries over to Facebook messenger and our Customer Service reps can log a case for you and respond to you there.
5) Keep things legal.
Please do not post any materials that would infringe on any patent, trademark, copyright or other proprietary rights of any person/organization, or anything that is deemed illegal by laws, rule or regulations. You must also refrain from referencing illegal or restricted items such as firearms, explosives, alcohol, restricted medication, etc). Any form of sexist, racist, religious or personal abuse content will be deleted. StarHub reserves the right to delete any content that it deems offensive or irrelevant without any prior notice.
6) Do not solicite
Although we encourage everyone to join us on Community, we do not encourage solicitation. StarHub reserves the right to delete any content that it deems to be solicitation.
As this is a Community run by you, we seek your cooperation in following these guidelines to make this Community fun and healthy. We'd also be grateful if you could help us keep a lookout for any violations of our guidelines and notify us by choosing "Report Inappropriate Content" in the options menu.
By using this forum, you agree to follow these rules, as well as, the full Terms of Service for the GreenR Community.
Read more about us here.
Not sure how to get started? click here.
Thank you!
GreenR Community Team
-Jolene
Some of my posts are unofficial and may contain personal opinions which may not represent the positions and opinions of StarHub.
For account related matter, please seek help from our Customer Service team via Facebook Messenger.
Have a good idea? Tell us at our Ideas Exchange!